Sandblasted glass is a kind of etched glass. In sandblasting process, a glass surface etched by a sandblaster machine. Sandblasted Glass is also known as Frosted Glass.
Sandblasting is a general term used to describe the act of propelling very fine bits of substance at high velocity to etch a surface. Sand used to be the most commonly used substance.
Sandblasting uses compressed air to blast fine sand or other very abrasive,high grit substances through a nozzle and at the object desired to be sandblasted. These abrasive substances rapidly discard the surface of the object leaving a clean surface.
Types Of Glass Etching :
There is not only one type of etch glass like acid etch glass but also sandblasted etching glass.The first one is etched by chemical,called as acid etch glass. The other is etching by sandblaster.
Which is the better between Acid Etched Glass and Sandblasted Glass?
Both acid-etched and sandblasted glass use abrasives to produce a frosted or non glossy glass look. Acid treatment is used to create acid-etched glass. While sandblasting is done with a high speed machine that blitz the glass panel with sand,walnut pods or other substances.
That depends on the end goal. Acid-etched glass produces a true frosted look and is more economical than sandblasting.
Sandblasting glass offers versatility in inventing design effects. First,householders can choose a level of glass cloudiness from light,medium or heavy. Also,sandblasting makes it possible to frost sections of a glass shower,such as creating privacy strips or archetype.
Application areas of sand blasted glass :
Sand-blasted glass can be used in numerous interior design applications in both residential and commercial structures. Some of uses are:
1.Glass panels for Front Doors : Frosted Glass or Sandblasted Glass is used as glass panels for front doors of your residence or work place.
2.Sandblasted Glass as Shower Enclosure : For Shower Doors or walls you can used sandblasted glass.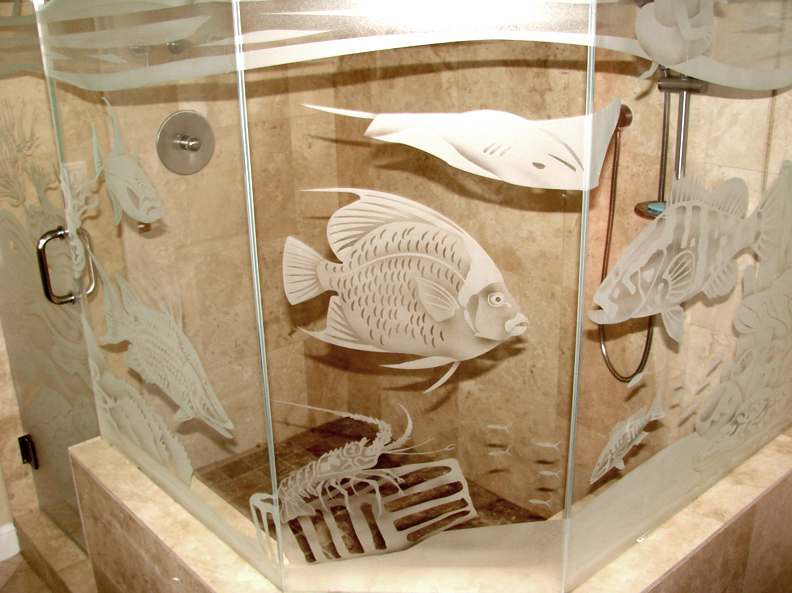 3.Designer Glass Partition Wall : For office dividers or as room divider you can use the sand blasted glass.
4.Cabinet Doors : As a designer cabinet doors Bear Glass provides sandblasted glass to decorate your cabinets.
5.Nameplates : For a designer name plate you my choose the sand blasting.
6.Glass staircases : You can use sandblasted glass as staircases. It gives you an elegant look to your interior.
Why You choose Bear Glass?
At Bear Glass we stock a large variety of glass and mirrors and offer many different types of fabrication along with your sandblasting designs. we also provides anything in glass and mirror. You cancontact us for your next project.