Bear Glass handcrafts both custom and decorative antique mirror glass that is indistinguishable from actual vintage mirror.  Each mirror is completely unique and gently aged to fit your specific needs.  We sell to homeowners, designers, architects, and contractors for all types of applicants.  We can customize the mirrors to fit your needs.  Whether designing a feature wall, creating a kitchen splash back, or inserting into wardrobe doors or furniture, we offer a range of antique mirror glass styles and designs to suit.  Typical projects include private residences, bars, restaurants, hotels, and retail outlets.  We also offer an expanding portfolio of limited-edition artworks and designs using both plain and antiqued mirror glass.  Designed and made in-house by our experts.  We aim to provide an efficient and friendly service to all our customers.   Bear Glass hand makes antique mirror glass that is indistinguishable from actual vintage mirror.  Each unique piece is subtly distressed, aged & antiqued to suit your requirements.  Our bespoke services cover every aspect of your commission from creation to installation.  We carry a variety of beautiful, colored antique glass for your different preferences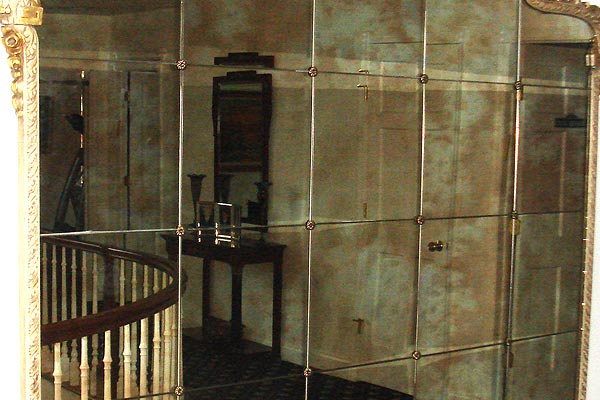 Our products include:
Heavy antique
Blue antique
Pink antique
Light antique
Gold antique
Venetian antique
Heavy cloudy
Gold dot
Light cloudy
Gold vein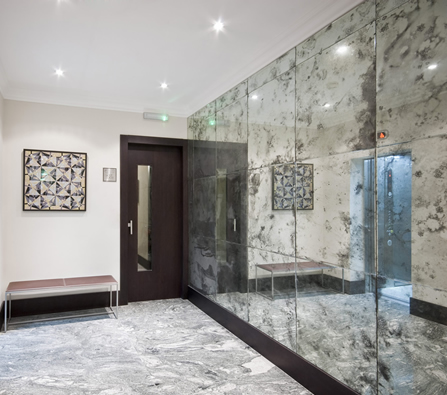 We offer different types of Antique Mirrors with exotic colors and patterns;they are available in sizes 48" X 94 1/2" up to 96 X 144 and come in finishes from traditional distress antique to burst of colorful 3D effects.  We have worked with numerous clients and designers to custom cut and install one of  a kind pieces.  Our method of making glass consists of varying the regularity of metallic deposits.  In addition to its decorative effect, the antique mirror creates a gentle and softened reflection, which contributes pleasantly to interior light levels.
For more information on our Antique Mirrors please contact Bear Glass at: 718-832-3604 / 732-901-2626