The glass shower industry, like all industries, has its own terminology. Below is a short list of some of the glass shower terms a designer should know if they're designing a shower featuring a glass shower doors.
Regular float glass. It is glass that has NOT been heat-treated. By law, it is not suitable for glass shower doors.
In terms of handicap access, this refers to an doors system that has minimal or no bottom track or curb. Depending on the overall shower size and designs, this is part of a universal design system and my make this style ADA compliant.
A glass that is transparent. (for extra-clear, ultra-clear, or low-iron; please see the definition under "low-iron glass")
Bent Glass shower:
The glass that has been specially formed to fit into a circular floor plan.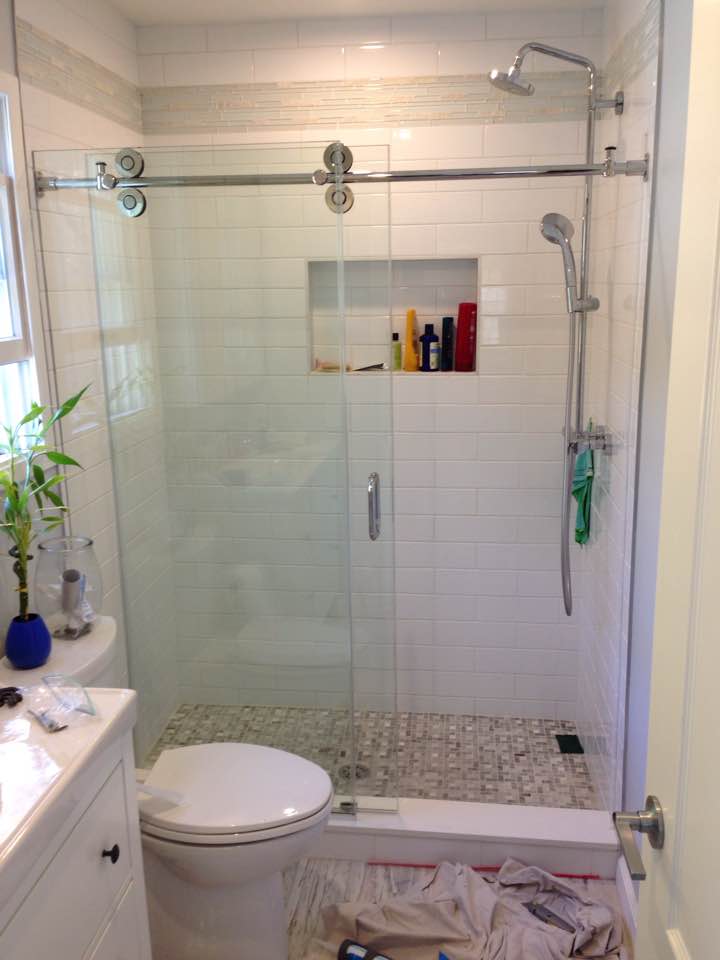 A door that requires a special size of tempered glass and framework.
The glass that has a design cut into its surface to create a frosted appearance. For shower doors, this effect is created by acid-etching, since sandblasted glass would not stand up to the soap, oils or cleaners which may be present in a shower. Digital printing can create a simulated etched effect.
A shower doors system that mounts all glass panels within a metal frame.  Usually a lower-end or off-the-shelf style of shower.
A shower doors system that minimizes the amount of metal used to hold the system panels and door in place. The edge of the glass is exposed but finished with a safe, flat polished edge.
The glass used in many frameless doors. Usually, 3/8-inch or 1/2-inch in thickness. It is still required to be tempered.
  A minimum of two pieces of glass with a middle layer of vinyl which is the heat and pressure treated. The vinyl layer keeps the glass intact when broken and prevents body parts from penetrating the glass pane.  It may be used interchangeably with tempered glass in shower installations. By code, all glass shower doors and doors must use either tempered or laminated glass in their construction.
A glass that is made using less iron and other minerals during float manufacturing process to create a transparent glass that has less greenish tint. The amount of actual tint will ultimately vary due to the thickness of the glass.
The glass that has a repeating shape embedded in the glass. Maybe transparent or obscure
A glass that has been printed with a design using permanent inks. May be screen printed, digitally printed, sprayed, curtain-coated or printed in some other manner for transparency, translucency, or opacity.
A glass that bounces back at least some of the light that strikes it.  This kind of glass is commonly called a one-way, or transparent, mirror. The amount of transparency or reflection depends on the strength and location of the light source.
A glass that has been heat-treated by a process of gradually heating and cooling. Once a piece of glass has been tempered it cannot later be cut. If it breaks, it breaks into many small pieces. By code, all glass shower doors and doors must use either tempered or laminated glass.
The glass that has been made with a texture on its surface that creates a translucent effect.  This is the same concept as patterned glass, but may also be textured using deep acid etching or a printed coating. May refer to non-slip or increased traction surfaces.
The glass that is made during the float process with a transparent color running through it. Gray, Bronze, and Blue are the most common tints.
If you're having trouble with creating or installing a shower doors, give us a call at +1 718 832 3604. We have qualified glass shower installers all across the country who create and install beautiful doors every day and may be able to help you with your design problem.