Abrasive waterjet cutting technology is a great method for cutting glass because it allows for contours and shapes that cannot be achieved with other cutting machines at a reasonable cost. From artistic tabletop inlays to detailed stained glass designs, mirrors, glass ornaments, replacement windows for antique cars, and more, there's almost no glass cutting application that a waterjet cutting machine can't tackle.
Glass has a tendency to crack, so it is very important that the initial holes are produced with a reduced pressure . Subsequently, the pressure must be increased to a cutting speed that is cost-effective. For glass, ceramics and other brittle materials, you must gradually increase and reduce the cutting pressure by means of proportional pressure control of the intensifier pump, otherwise, the material would be destroyed.
As an alternative waterjet technology can be used as an abrasive because it is softer, which reduces the potential for chipping, cracking and other surface blemishes and leaves a cut edge that is polished to a smooth finish.Because waterjet cutting does not vibrate the glass, there are no heat-affected zones to leave behind rough edges, almost no secondary finishing is required.
ADVANTAGES OF CUTTING GLASS WITH WATERJET
Cut glass geometry that common machining cannot perform
Delicate glass does not crack during processing
Precisely cut thin to thick glass without changing any tooling
Eliminates pressure of cutting process on surface material
No heat affected zone
No tool to sharpen
No need for reworking of the cut edge
No waste of material, narrow cutting gap
Cost effective means of cutting holes in glass
Create intricate design in any shape and size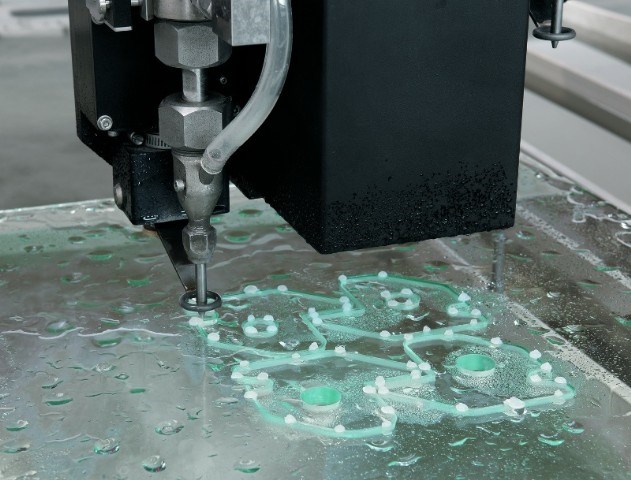 Everyday Uses of waterjet cutting
Light fixtures
Mirrors
Optical laser parts
Replacement glass for antique autos
Glass ornaments
When you need reliable waterjet cutting solutions, Bear Glass has you covered.
With over two decades of expertise in quality waterjet cutting, we are one of the nation's leading manufacturers of fabricated glass parts. Our experienced team works diligently with the latest machinery and cutting technology.  We are equipped to handle the most intricate tasks.
No matter what the shape, size or material, if you can imagine it, we can do it.  Our use of equipment provides us the opportunity to deliver high. Our latest waterjet capabilities create the highest accuracy for the smallest details.
Bear Glass will work side-by-side with you every step of the way.Whether you are an architect or furniture maker, you can count on us to go the extra mile for your fabrication project.Whether you have low-volume or high-volume specifications, Bear Glass has production capabilities to meet your unique needs. We can produce depending on the size requirements.
If you are ready to jump start your next great project, contact Bear Glass today. Our knowledgeable staff can answer any questions that you may have.