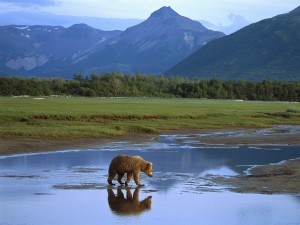 In the world of sandblasting there are two techniques, etching and carving. Etching is when abrasive is blasted at the glass lightly to give the glass a frosty appearance. Depending on the speed and angle the abrasive is being applied, different shades can be created, allowing the glass to be a true work of art. Carving on the other hand is when steadily sandblasting is done to the surface of a glass using stencil which protects the areas you don't want to be carved out. Sandblasting as a technique for carving can be much nuanced, with differing depths and angles of cuts creating an array of lighting effects that may be quite beautiful.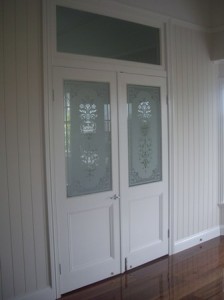 Common to residential homes, there is a need for privacy in areas of the front entry or over a tub in the bathroom. These are areas where an elegant or sophisticated design can lend to the privacy desired along with adding beauty and character to a home. Etched glass designs add a great look to recreation areas and bathroom mirrors. Home bar mirrors with your own personal name for your get away create an interesting and elegant look for entertaining or personal enjoyment. Etched glass table tops have enhanced many dining rooms with sandblasted and carved designs.
Many of our clients prefer to have attractive etched glass signs pin mounted right above their reception desks which can also be lighted or colored with your corporate colors. These signs can be very versatile in function for the corporate office or small office environment. From company name recognition to adding an element of design, Bear Glass can provide the correct solution for your needs!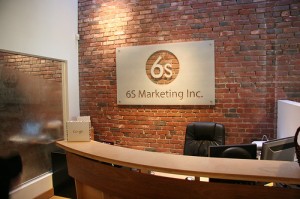 In many commercial environments, the need for name recognition is vitally important. By having your corporate logo/identity sandblasted onto the front entry doors or on a glass curtain wall in a conference room, you are establishing your name with your clients and showing a sense of pride in your company. Also, it is very helpful for clients in locating your office space in larger office buildings .
Glass etching on an entrance to a home or office creates a dramatic first impression like no other architectural material can. Etched glass entrys and etched glass doors are elegant and quite sophisticated, modern yet can be very classic. Even the best etched glass design is only as good as the technique used and its execution. Bear Glass can deliver on both quality and timeliness which is why leading architects and contractors rely on Bear Glass to make their glass etching vision a reality. It does not matter if the frosted glass design or frosted film pattern is in an office, restaurant, laboratory or an airplane, Bear Glass has the capability of performing this work on the job site, without the mess and dust of conventional systems, enabling any glass to be sandblasted anywhere that it may be located.
For more information, please contact us. We look forward to working with you!
FACTORY/OFFICE
Address:
Bear Glass Inc.
399 20th Street
Brooklyn, NY 11215
Phone:
718-832-3604
Fax:
718-832-0786
Email:
bearglass@yahoo.com
SHOWROOM
Address:
Bear Glass Showroom
167 Mott St,
NY, NY 10013-5442
Phone:
212-219-1679
Email:
info@bearglass.com
sales@bearglass.com