Don't you realize that splashbacks are a requirement for your modular kitchen? A kitchen backsplash is rested on the kitchen wall wherein it can shield the walls and most especially the spot behind the stoves and sinks from stench and blemishes during cooking and prepare food. This splashback also has pleasing value, with custom colors, patterns or textures that can perk up the appeal of your kitchen. Also, backsplash comes in a variety of designs and styles; but if you wanted to revamp the look of your kitchen glass backsplash is an ideal accent selection.
But why do you select a glass backsplash above any other backsplash? There are some reasons; glass is heavy-duty and effortless to mount. It is also easier to clean and more hygienic for kitchen use. If you speaking about its elegance and style, a glass backsplash gives a clean, shiny and flawless look not only for the kitchen but also other rooms in your living space.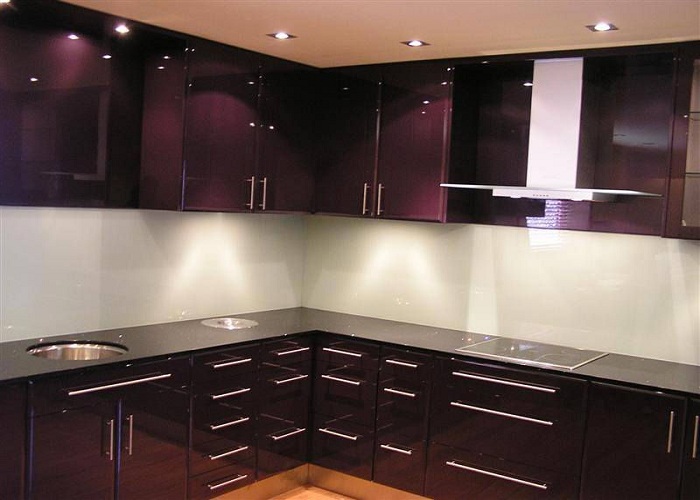 Looking to renovate your shower room, kitchen, or office with an exciting new look? Back painted glass provided by Bear Glass is an ideal solution for commercial and residential spaces. Painted glass adds brilliant color options, beauty, and sophistication that will transform regular walls into stunning interiors. Widely popular in the USA., back painted glass is the perfect alternative to the traditional tile, paint, and wallpaper. It provides a custom glass finish that is modern, clean, seamless, vibrant, and hygienic.
The glass is back-painted using ultra clear, low-iron glass, so the color you specify is the color you see. A special color application is applied to the back of a glass panel, resulting in a highly glossy appearance. Painting the back side of glass protects the color application from scratches and other environmental wear while preserving the reflective quality of the glass. To maintain color integrity, low-iron glass panels are used.
The Advantages of using glass splashbacks
1. Easy to clean & clear: Being very sleek and flat, glass splashbacks will be easy to clean. Commonly, we only require to wipe the blemish or stain, and it will be clean soon. As glass is a cost-effective material, you do not need to spend more money on cleaning material on a regular basis. This is practical and enjoyable for people who love cooking.
2. Heat resistant: If you cook for hours and your glass splashback is exposed to heat for the whole time, it will be just fine. It does not change the shape or colors. For your kitchen backsplash, you must use tempered glass. In addition, it keeps you further from repair and maintenance.
3. Colors option: There are many colors, you can choose for back painted glass splashback on market now. You can make assure that your backsplash will be matching to kitchen design, theme, and style. No matter what your color choice, the glass will stay clear and bright.
4. Small effort: Replacing the old splashbacks with one using glass will be a little effort. However, this effort will give total big impact and change. This touch will change your kitchen look into more classy and elegant kitchen. Meanwhile, you do not need to spend too much money for this.
5. Contemporary look: Being clear and bright, this glass or mirror kitchen splashbacks contribute an impressive touch to your kitchen. It looks like you already spent a lot of money for it while you actually don't. This is how you make a change in your kitchen. Lavish kitchen definitely catches the people attention.
6. Light reflection: Glass generally reflects light well. You will have less shadow, and you will also get brighter kitchen without adding anymore lighting system, you can install  glass splashbacks. It will be comfortable for you to cook or bake, even when you will in the middle of the night.
7. Versatility: Versatility is basically just a dream. However, glass backsplash gives versatility advantage in which you can make it just as you want it even to be installed on most challenging corners. This is totally possible to make and you will not need to make too much effort for it.
8.Eco-Friendly: One of the finest features of a glass tile backsplash is that it is environmentally friendly. If you are looking for ways to make your home greenish, glass is the ideal solution for it.
If you need it call at +1 718 832 3604
You can also email us at sales@bearglass.com