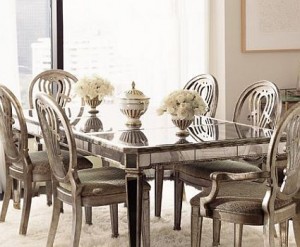 The average mirror is a sheet of glass that is coated on its back with aluminum or silver that produces images by reflection. Mirrored furniture became en vogue in the thirties, the era of art deco. Bear Glass recommends using no more than one or two pieces in each room. This way the mirrored furniture can obtain the attention it deserves with out overdoing it. Mirrored furniture can make an entire room appear more spacious. It is vital that the mirrored furniture is placed in a position where it can reflect natural or artificial light. The light that is reflected can brighten the surrounding. Tall cupboards can also make the ceilings appear higher. Mirrored furniture is ideal for any room where you want to add sparkle and create the illusion of a larger space. Reflective surfaces shoot light around the room and create an intimate feel to bedrooms, hallways, bathrooms and living rooms.  Mirrors can be used for edging upholstered chairs and bed frames or  to cover chandeliers and other light fixtures. Have fun introducing mirrored furniture where glam, sparkle and height are needed.
Mirrored furniture can come in an array of  shapes and sizes. Common Mirrored furniture items include:
Armoires
Cabinets
Chests
Changing tables
Coffee tables
Console tables
Desks
Dinning tables
Dressers
Night/end tables
Storage furniture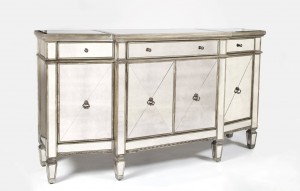 Bear Glass is your one stop shop for all your mirrored furniture needs. Bear glass is a 4th generation family operated business.  At Bear Glass we can mirror your existing furniture, give your current tired furniture a face lift with a stylish elegant new finish! Perhaps a more rustic vintage look is more your style? Bear Glass is home to 15 styles of antique mirrors. Just starting out or starting over on the decorating process? No problem! Bear Glass can build you the mirrored furniture piece of your dreams. Accidents happen! At Bear Glass we can repair broken mirrored glass furniture. Bear Glass can supply you with new mirror, or if the glass is vintage, match the existing glass. Whether its for the living room, dinner room, den, nursery, or bedroom Bear Glass has got you covered.  So contact Bear Glass today!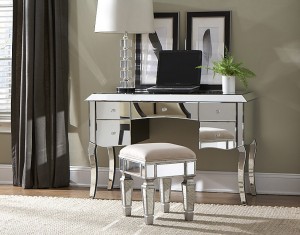 For more information on our Mirrored Furniture please contact Bear Glass at:
FACTORY/ OFFICE
Bear Glass Inc.
399 20th Street
Brooklyn, NY 11215
P: 718-832-3604
F: 718-832-0786
If you are in New Jersey:
Bear Glass New Jersey
359 Essex Road
Tinton Falls New Jersey 07753
P: 732 901 2626
F: 732 901 2266