The antique mirror glass is basically a handmade mirror glass. It is made from new mirrors and gives an authentic look. We also cut your glass to size as per requirement, so each piece is lovingly aged around all of the edges as it would be if it was truly antiqued. Specializes in the fabricate and supply of antiqued mirror glass for feature walls, bathroom and kitchen backsplashes, furniture and a variety of decorative applications. Whether designing a feature wall, creating a kitchen backsplash, or inserting into wardrobe doors or furniture, we offer a range of antiqued mirror glass styles and designs to suit. Typical projects include private residences, bars, restaurants, hotels and retail outlets. We aim to provide an efficient and friendly service to all our customers, so please feel free to contact us by phone, email or our inquiry form to discuss your requirements.
Antiqued mirror is a brilliant selection for interior decor and not just because you can make it any elegance, radiant color you want. It is smart because it reduces grout and joint lines and it can easily be wiped clean. But don't just take our word for it. An antiqued mirror also looking very attractive. You can use it for your residential and also office purpose. It really gives a beautiful as well as classy look to your interior. Antiqued Mirror furniture has been hot for a few years now, and its appeal is hard to ignore. Mirrored furniture brightens up dark corners in ways that nothing else can.
All of our antiqued mirror finishes can be made into custom sized. We provide the variety of pattern on antique mirror sheets. You can also select a custom shape for your antiqued mirror need. We offer a shape tool by which you can select a shape and also estimate your budget.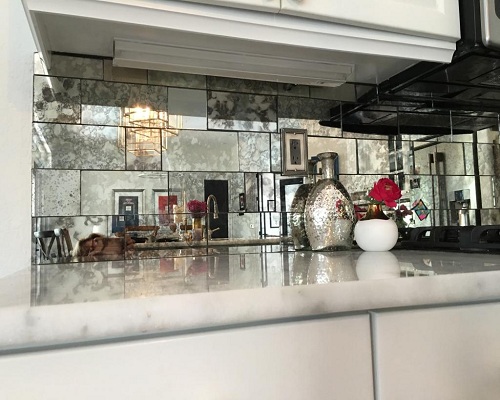 Utilization of antique mirror
There is much utilization of antiqued mirror in residential and commercial purposes. Like:
Wall partitions
Wardrobe door
Kitchen backsplash
Wall coverings
Shower door
Wet bars
Restaurant wall
Antique mirrored furniture, etc.
We provide these pattern of antique mirror; POSEIDON, HERA, ZEUS, HADES, ATHENA, MORPHEUS, VIRGO WITH GOLD VEIN, LIBRA, LEO, AQUARIUS, GEMINI, CAPRICORN, ARIES, PISCES, SCORPIO, Gold Antique Mirror, Gray Antique Mirror, Venetian Antique Mirror, Rainbow, French, Light, Black, Grey, Volcano, Gold, Heavy Cloudy, Lunare, Pink, Icey Blue, Golden Dot, Gold Blue, Vulcan,. We do precision antique mirror as well as any glass and mirror installations in Brooklyn, NY and also all over the USA and Canada. We have own glass trucks and racks to carry your precious products.