Bear Glass And Dreamwalls have come together and have a fantastic deal on 5/16 glass . We are able to do this because we are an Exclusive Dreamwalls Distributor and we are the only company that is able to offer this tremendous discount while supplies last. Here are the specifics and we hope to hear from you soon: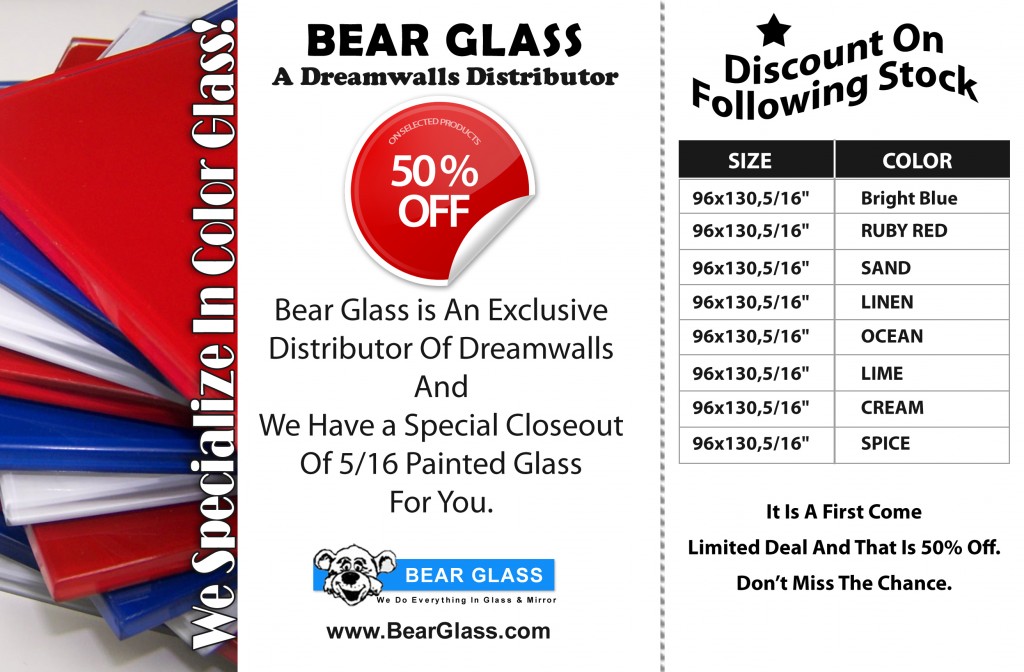 Is your kitchen in desperate need of a change?  Does it not have a full splash and no matter how careful you are, you've spilled stuff all over the walls?  Bear Glass has just the solution for you with our Painted Glass Backsplashes.  Painted Glass is simply glass that is painted from the back side of the glass.  It is wonderful material to use as a backsplash in your kitchen or bathroom.  Painted Glass walls and enclosures are also very popular.  We use Starphire Glass, which is also known by brand name Low Iron Glass, as a main source for producing Painted Glass.  Low Iron Glass is ultra-clear so the color you specify is the color you see.  Bear Glass Painted Glass works with your traditional style.  It's super easy to clean as well.  Our Painted Glass commands all the attention in an otherwise clean and simple kitchen or bathroom.  Painted Glass Backsplash adds a splash of bright, sophisticated, modern color to your home or even office.  Add color and brilliance to your world.  Picture ultra-clear glass bathed in luminous, reflective colors.  Painted Glass has evolved to enhance the sleek, clean style of modern homes and commercial spaces, and it adds a touch of elegance when blended into traditional interiors.  This versatile trend introduces a new design alternative to tile, laminate, granite, marble, and even wood applications.  We have a wide variety of colors to choose and offer custom colors based on most major paint manufacturer.  Some of our fabulous colors include:
–      Bear White
–      Rusty Terracotta
–      Deep Lavender
–      Tan
–      Real Black
–      Smoke Gray
–      Green Tea
–      White White
–      Sea Green
–      Sapphire Blue
–      Khaki
–      Red Sangria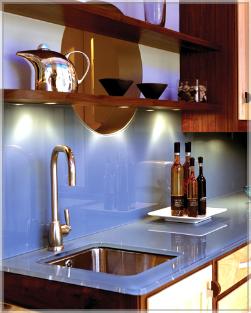 Bear Glass can match any color you want for your Painted Glass needs. We have limitless spectrum of colors.  When opacity and an easily preferred, Painted Glass is an excellent choice.  Bear Glass is the only stop for your Painted Glass needs.
For more information on our Clear Pattern Glass please contact Bear Glass at:
FACTORY/ OFFICE
Address:
Bear Glass Inc.
399 20th Street
Brooklyn, NY 11215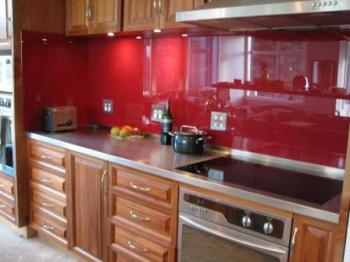 Phone: 718-832-3604
Fax: 718-832-0786
E-mail: bearglass@yahoo.com
If you are in New Jersey:
Bear Glass New Jersey
359 Essex Road
Tinton Falls New Jersey  07753
P: 732 901 262