This is the shaping or finishing of the edges of a glass surface, usually by grinding with an abrasive wheel.  Beveled Glass is usually made by taking thick glass and creating an angled surface cut (bevel) around the entire periphery.  Bevels act as prisms in the sunlight creating an interesting color diffraction which both highlights the glass work and provides a spectrum of colors which would ordinarily be absent in clear float glass.  Beveled Glass can be obtained as clusters which are arranged to create a specific design.  These can vary from simple three or four piece designs, often used in top lights (commonly known as transoms) of windows and conservatories, to more complex combinations of many pieces, suitable for larger panels such as doors and side screens (known in the door industry as sidelites).
Another good design option is to apply beveling to cabinet glass and glass shelves.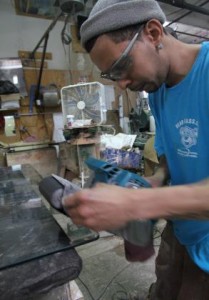 They are increasingly popular home design options for homeowners interested in updating their home décor, due in part to their superior ability to make a room appear lighter and feel larger.  Beveled glass cabinet doors and beveled glass shelves offer visual appeal without inhibiting the light flowing through them, or obscuring the view of the pieces displayed within the cabinet.  Beveled glass has also been used with clear and colored textured glass to create designs.
Textured glass is typically 1/8″ thick and has a distinct visible texture.  Beveled glass is typical made from 1/4″ float plate glass but thicknesses up to 1/2″ have been used for larger windows.  The width of the bevel also can vary depending on the desired effect.  The combination of beveled glass is juxtaposed to the textured glass creating dramatic visual effects.
Beveled glass has many uses.  It is used in doors, mirrors and furniture.  Its use on doors is common and where a door may have an intricate design etched or cut on it by adding a plain bevel to the edge it leaves an attractive finish all round.  Many mirrors are surrounded by ornamental framework.  By the addition of a bevel to the periphery of a mirror it adds detail and can eliminate the need for any further ornamentation.
Glass tables have recently become very popular.  They can create a feeling of space in a room.  Many have a beveled edge as a design feature.  With the addition of clever lighting or a few candles the light will be reflected off the glass creating a spectrum of colors which would be absent if the glass was square cut.
In the glass world  hand beveling is an age old process which grinds away the edge of the glass to produce a chamfered or decorative finish.  Producing Hand Beveled Glass requires much time, starting from roughing out the pieces on a diamond wheel and proceeding through several steps to a high polish.  But, the result is worth it.
For more information on our Hand Beveled Glass please contact Bear Glass at:
FACTORY/ OFFICE
Address:
Bear Glass Inc.
399 20th Street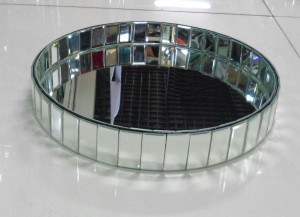 Brooklyn, NY 11215
Phone: 718-832-3604
Fax: 718-832-0786
E-mail: bearglass@yahoo.com
If you are in New Jersey:
Bear Glass New Jersey
359 Essex Road
Tinton Falls New Jersey 07753
P: 732 901 2626
F: 732 901 2266