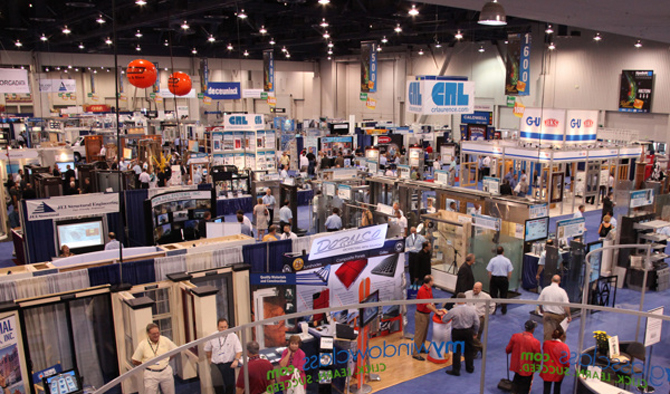 Bear Glass sent a team out to Atlanta last week to attend GlassBuild America.  The goal was to discover new ways to make better-performing, better-looking windows and doors more affordable to our customers. While the industry continues to deal with lingering market weakness, Bear Glass continues to advance by  attending educational events and understanding new technologies and products that are being being developed. Bear Glass then takes these ideas and analyzes the needs of our customers and see if we can provide new services that were not offered before.
Highlights included:
The the OptiGas 1000 high-volume gas-filling station. The line gives manufacturers the ability to fill units with precise amounts and virtually eliminates krypton waste.
GED Integrated Solutions introduced the new Atlas line which was designed to produce triple-pane IG units in 20-second cycle times.

Quanex featured products from many of its door and window manufacturer customers.

Walker Glass was exceptionally informative as well.
There various categories which are listed below:
Frame & Sash Materials
including vinyl extrusions, fiberglass pultrusions, cladding, reinforcements, finishes and laminates
Frame & Sash Processing Equipment
including saws, fabrication centers, welders, and corner cleaners
Glass & IG Components
including spacers, spacer systems, IG sealants, muntins, grids, doorlites and decorative glass
Glass & IG Processing Equipment
including cutting tables and lines; IG ovens, presses and lines, tempering/laminating equipment and glazing equipment
Software & Systems
including ERP systems, manufacturing and production control packages, configurators, quoting and ordering packages, as well as specialized software tools
Weatherseals, Sealants & Related Products
including weatherstripping, gaskets, compression seals, jambliners, door sills, and flashing products
Window & Door Hardware
including locks, latches, operators, multipoint systems, and levers, knobs and trimsets for residential products
Other Products & Services
including screen related products and equipment, packaging and shipping related materials and equipment, testing and design services, specialty fabrication services and more
Overall the trade show was success and Bear Glass will return next year, with GlassBuild America set to head west once again to Las Vegas. Bear Glass hopes that you make the commitment to attend as well. More information about the event, set for September 12-14 at the Las Vegas Convention Center, is available at GlassBuild America website.