Bear Glass specializes in the design and manufacture of all kinds of glass, featuring new and recycled glass countertops, table tops, privacy panels, wall dividers, wall coverings, balustrades and so much more. Skilled artists from Bear Glass create featured design elements that are both stunning to behold and a pleasure to use.
The rich look of glass combined with the hygienic nature of a non-porous surface make for a beautiful and practical surfacing material.
Now Glass Countertops adds even more with the ability to choose virtually any color along with a myriad of special finishes that really stand out. Combined with textures, the sky is the limit.
Glass countertops by Bear Glass can even give you a brushed stainless or metal look through glass that is truly sensational.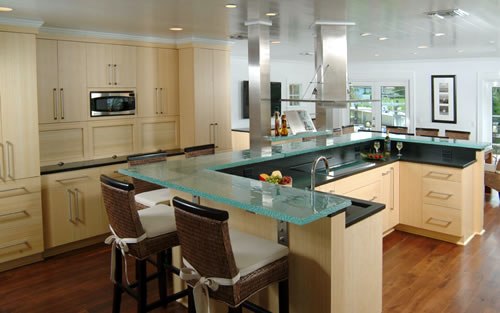 With a remarkable blend of function and art, Bear Glass offers glass countertops that literally transform your eating area. Our exclusive technology can make your kitchen glass countertops truly unique.
Glass countertops 1.5″ thick or more.
A smooth, glossy contemporary finish on every glass countertops, with a huge choice of available imbedded textures.
Custom designs of your glass countertops with infused color to create your personalized artistic touch.
Durability that rivals any common countertop product.
Each Bear Glass kitchen countertop begins with a handmade process, every finished product maintains its uniqueness. We provide different texture for countertops:
Natura
Carco
Vaga
Pebblo
Dropa
Minima
Granula
Brossa
Bear Glass offers a full LED solution for all your lighting needs in order to further highlight your glass countertops. White LED & Multicolor Led gives a special looks to your countertops.
Bear Glass offers wide selection of thicknesses, edge treatment, surface treatment, colors and shapes.
A sleek and modern look, combined with a low carbon emissions production process makes Bear Glass an environmentally preferred product. Bear Glass uses transparent tempered glass, post-consumer recycled glass to make the best of glass countertops.
Bear Glass is extremely durable and low maintenance.  Using ForeverSeal® helps make Bear Glass more stain and scratch resistant than "ordinary" granite.  Bear Glass is also heat resistant and cold resistant. The non-porous surface means spills won't stain it and cleaning is very easy. Bear Glass is perfect for modern homes and businesses looking to express a fresh, forward looking sensibility.
Bear Glass ships their glass countertops products worldwide. We do everything in glass.
For more information or to order your glass countertops, please contact Bear Glass at:
FACTORY/ OFFICE
Address:
Bear Glass Inc.
399 20th Street
Brooklyn, NY 11215
Phone: 718-832-3604
Fax: 718-832-0786
E-mail: bearglass@yahoo.com