Bear Glass has the answers you are looking for regarding wire glass.  Wire glass is used in fire-rated windows and doors because it meets most fire codes. It is made by feeding a welded wire net into the molten glass before it enters the rollers. The wire does not add strength to the glass, but it does hold the glass in the sash if it shatters.
The process of wire glass, or wired glass, is sheet glass in which wire mesh has been inserted during production. The impact resistance of this glass is similar to that of normal glass, but in case of breakage, the mesh retains the pieces of glass. This product used to be accepted as low-cost fire glass but is no longer acceptable for this use. Now, wire glass is mostly used for windows because of it exceptional security qualities. Clear wire glass and obscure wire glass is available at Bear Glass.
Wire glass is a common sight in schools, businesses, and hotels across the nation. Wire glass is manufactured primarily as a fire retardant, with wire mesh inlaid in the glass to prevent it from shattering and breaking out under stress or when exposed to high temperatures. With the window intact, the wire glass keeps the fire at bay, protecting those on the other side from the harmful effects of smoke and flame.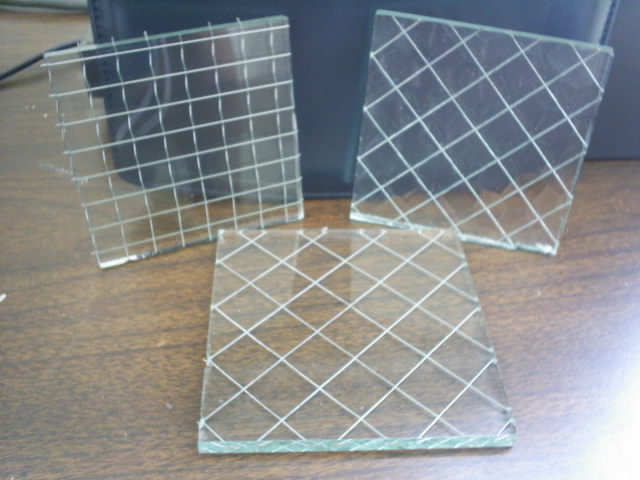 Wire glass typically comes in two types — Misco and boxed. Misco is also called diamond wire glass. In boxed wire glass, the wire is rotated 45-degrees, so that it makes s a checkerboard pattern, rather than diamonds.
There are pros and cons of installing wire glass.
There are many myths about wire glass and its proper usage. Primarily, most people assume that that the incorporation of wire into the glass makes it stronger, and that this makes it a good option for security glass. Actually, the wire in the glass actually weakens the wire glass from a strength standpoint, and makes it more susceptible to breaking. What the wire does do for the glass is hold it in place. That makes it safer from the standpoint that a broken window won't send glass fragments showering through a room (hence its use in schools), and that the wire will hold the glass in place under extreme temperatures (hence its status as fire rated glass).
Wire glass is a smart addition in any area where a solid fire barrier and safety glass are beneficial. This includes using wire glass in public areas such as schools, public buildings, and businesses, and particularly in areas of these buildings that provide escape routes in case of fire. Windows in stairwells and in hallways that lead to emergency exits are prime examples of areas where fire rated wire glass is a smart addition.
We ship wire glass world wide.
For more information, please contact us at:
FACTORY/OFFICE
Address:
Bear Glass Inc.
399 20th Street
Brooklyn, NY 11215
Phone: 718-832-3604
Fax: 718-832-0786
Email: bearglass@yahoo.com