Bear Glass does everything in glass and mirror! We are a premier Dreamwalls Glass distributor. We have fabrication facilities in both Brooklyn New York, and Tinton Falls NJ. Dreamwalls Color Glass is manufactured using a propietary paint technolgy developed specifically for superior adhesion to glass.
From upscale commercial interiors to just about anywhere tile can be installed on walls, back painted glass adds brilliant color, shine and sophistication without the high maintenance grout lines. Transform ordinary walls into stunning interiors with Back Painted Glass. Widely popular in Europe, reverse and back painted glass is the perfect alternative to traditional tile, paint, and wallpaper, offering a custom glass finish that is modern, clean, seamless, vibrant, and hygienic.
The modern elegance makes this solution perfect for kitchens, bathrooms, showers, and many other areas of the home. In fact, back painted glass is so clean lined and beautiful, that it is increasingly being specified by leading interior designers and architects for new and innovative residential applications such as kitchen backsplashes, bathroom & shower walls, bar splashbacks, closet doors, cabinets, and furniture as well as for upscale commercial interiors, offices, and hotels.
There are currently 12 stock colors of annealed Dreamwalls Color Glass ready to ship. However, the color possibilities are limitless due to a computerized intermix system and our trained staff of color experts who ensure that the color you specify is the color you see. You choose a color from any color deck you use in your day-to-day business, and our experts can match it.
After the glass is coated with our unique paint, it is heat-cured and coated again with a backing paint for additional protection that is also heat-cured. This ensures that the paint remains durable during handling and fabrication to reduce the liklihood of scratches and cut-throughs.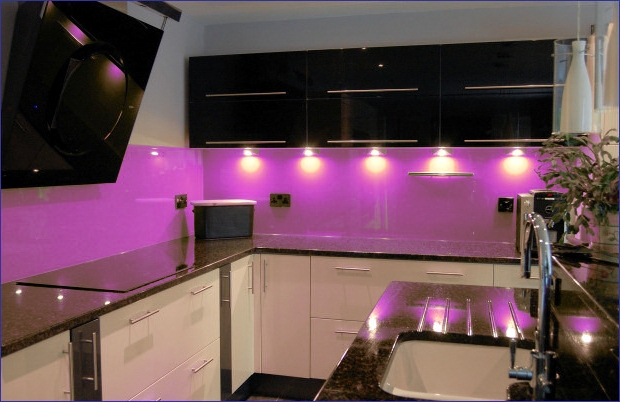 Backpainted glass panels are available on either plate or low-iron glass. Custom shapes and edgework are also available. Back-painted glass is ideal for use in architectural elements such as walls, countertops, and glass backsplashes. When opacity and an easily cleaned surface are required, yet a specific color is preferred, backpainted glass is an excellent choice.
Benefits of Dreamwalls Color Glass:
Easy to clean
Moisture resistant
Limitless color matching
Hygienically non-porous
Durable
Temperable
We match the color codes of all leading paint manufacturers, including Benjamin Moore, Sherwin Williams, Kelly Moore, and many others. Computer color matching is also available.
Looking to add even more depth to your Bear Glass Back Painted Glass? Our textured glass can be color-coated on the smooth side or textured side. Each alternative produces its own unique look.
MORE BACK PAINTED FACTS:
Bear Glass Back Painted Glass is durable, nonporous and easy to install. And with no grout lines, cleaning is fast and easy.
With a standard sheet size of 84" x 130", most projects can be done with very few seams, if any.
Bear Glass Back Painted Glass is available in all standard glass thicknesses: 1/8", 1/4?, 3/8", 1/2?, 3/4?, and 1".
You can cut Bear Glass Back Painted Glass to virtually any shape. You can drill, notch, temper, and even bend it.
Bear Glass Back Painted Glass countertop edges can be flat-polished, pencil-polished, beveled, bull-nosed, mitered, ogee or chipped.
Samples are easily available
We're happy to provide dealer showroom samples of the various colors, thicknesses and textures of Bear Glass Back Painted Glass.
The cost for individual samples for specific jobs is $45 each. We'll credit the cost of up to two samples when the job is completed.
Bear Glass ships their back painted glass products worldwide. We do everything in glass and mirror.
For more information or to order your  back painted glass, please contact Bear Glass at:
FACTORY/ OFFICE
Address:
Bear Glass Inc.
399 20th Street
Brooklyn, NY 11215
Phone: 718-832-3604
Fax: 718-832-0786
E-mail: bearglass@yahoo.com