The shower, as a bathroom equipment, is playing an increasingly important role in the interior of the bathroom and is a part of the overall design. One of the most popular tricks to visually enlarge the size of the bathroom is the use of absolutely transparent walls of the shower. Frameless shower doors can create a clean, modern and seductive look in your bathroom. Shower doors can have diverse designs and it would depend on the size of the bathroom, the architectural and structural issues, the design and of course, the personal taste of the homeowner. Frameless shower doors look modern, and sleek and add a light and airy look to the bathroom.
People who opt for frameless shower doors point out the elegant appearance and sleek and modern design. A frameless glass shower door makes a bathroom look bigger and does not hide a beautifully tiled shower. The airy look fits well in modern and minimalist-style bathrooms. The relatively easy maintenance is another of the advantages of choosing frameless doors. The lack of metal frame also means that there is no risk of erosion or rust. Generally, frameless glass shower doors are made of thick glass which makes them very durable. The use of frameless shower enclosures and cabins provides an opportunity to create a feeling of space even in small bathrooms. Generally, glass can give any bathroom, with modern or traditional design, a feeling of sophisticated style, which can be enhanced with appropriate accessories and lighting.
Glass shower enclosures are easy to install and easy to maintain. And it is easy to install. Bear Glass provides the quality and custom glass shower door at your budget price in Brooklyn, NY.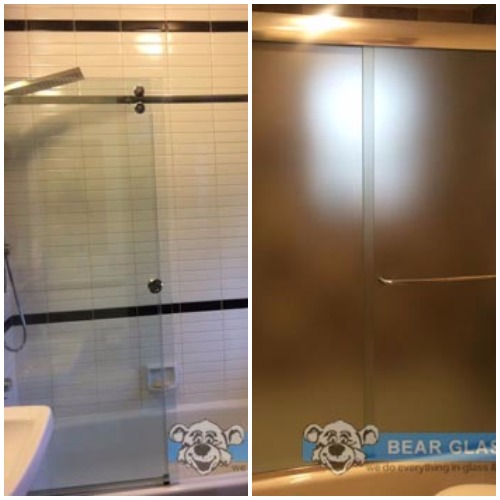 When Will You Upgrade Your Shower Door?
Whether you've purchased a new home and a new home requires a great bathroom interior. You can install a glass shower door to get an elegant look to your bathroom interior. If you can complete the remodel before you move in, you'll save your time and a huge inconvenience.
If you're selling an older home and want to make it appealing to potential buyers, consider making a few improvements. If you want to update or remodeling your old shower room, you have to change your shower door. Any type of glass shower doors are available at Bear Glass in any size. Glass shower door is one of the most cost-effective ways to enhance your bathroom interior. Another great update you can make is to install a new shower door with a contemporary track. Small improvements like these may help you get your asking price.
If your guest bathroom is less than impressive, maybe it's time for an upgrade. Create a "wow" factor by adding a fresh coat of paint and swapping out the shower curtain for a door with patterned or textured glass. Make your guests feel truly welcome by adding a basket of toiletries and items they may have forgotten. Add a few fresh, fluffy towels and they'll feel very welcome indeed.
So if you want to remodel your old shower room or want to install a new one, then Bear Glass is the best choice for you. We do custom shower door only for 7 days. Hurry up!!!!!! To order your Shower door Contact Us.