Stained glass furniture is not often explained in one sentence unless you have seen the visually offbeat collections. Stained glass furniture is not seen often these days though it gives an extra complement to your interior. These set of antique stained glass chair designs and the large glass table top together form an impressive dinner table and chair set. Making stained glass furniture requires intense concentration and a high degree of skill. Small pieces of colored glass are cut and closely fixed to complete the intricate design. Stained glass table tops and counter tops are so much popular in these days. Stained glass bed side table, room partitions, wardrobe doors are also available at Bear Glass.
Stained glass kitchen cabinet doors kitchen design marvelous cozy glass kitchen cabinet doors with. Large sized modern wall kitchen cabinet glass doors are available at Bear Glass. Kitchens offer a lot of opportunities to incorporate stained and leaded glass elements. Cabinet doors are the ideal places to apply stained glass. You can use all clear glass if you want to treat the cabinet as a display case, or you can use colors to block the view into your cabinet while displaying an exclusive piece of art and enriching the decor of your kitchen. Incorporating stained glass into your cabinets will give a luxurious look to your kitchen, too.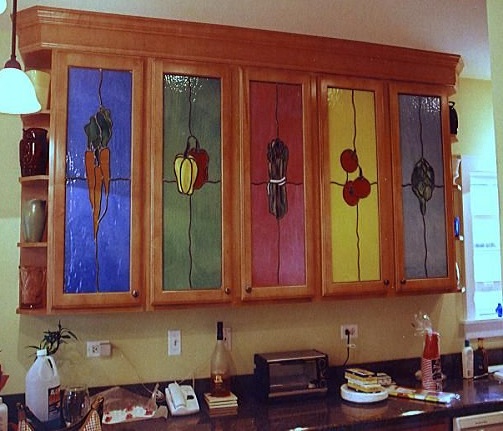 We have also installed stained glass in pantry doors and in the doors that lead to a wine room.
Many kitchen windows face the side of your neighbor's house, whether it's their siding or a view of a window leading directly into their home, as well as your own. This view is not always the most attractive or desirable. Additionally, it can give some homeowners a reason to be concerned about their privacy. By utilizing stained and leaded glass, your eyes will be drawn from the ugly view while simultaneously preventing views into your home from outsiders.
Benefits of Stained Glass Furniture
Draw attention to glass and away from other imperfections in your home
Make your home appear vintage and classy
Make a great first impression on potential buyers
Get your home stand out from other houses at similar price points.
Bear Glass offers custom stained glass windows, interior doors, shower doors, cabinet doors and also any type furniture for sale at a competitive price. Stained glass creates an outstanding appearance. Bear Glass provides custom stained glass cutting, installation service and fabrication in Brooklyn, NY and all over the USA and Canada. So if you want to get custom stained glass furniture Contact us.