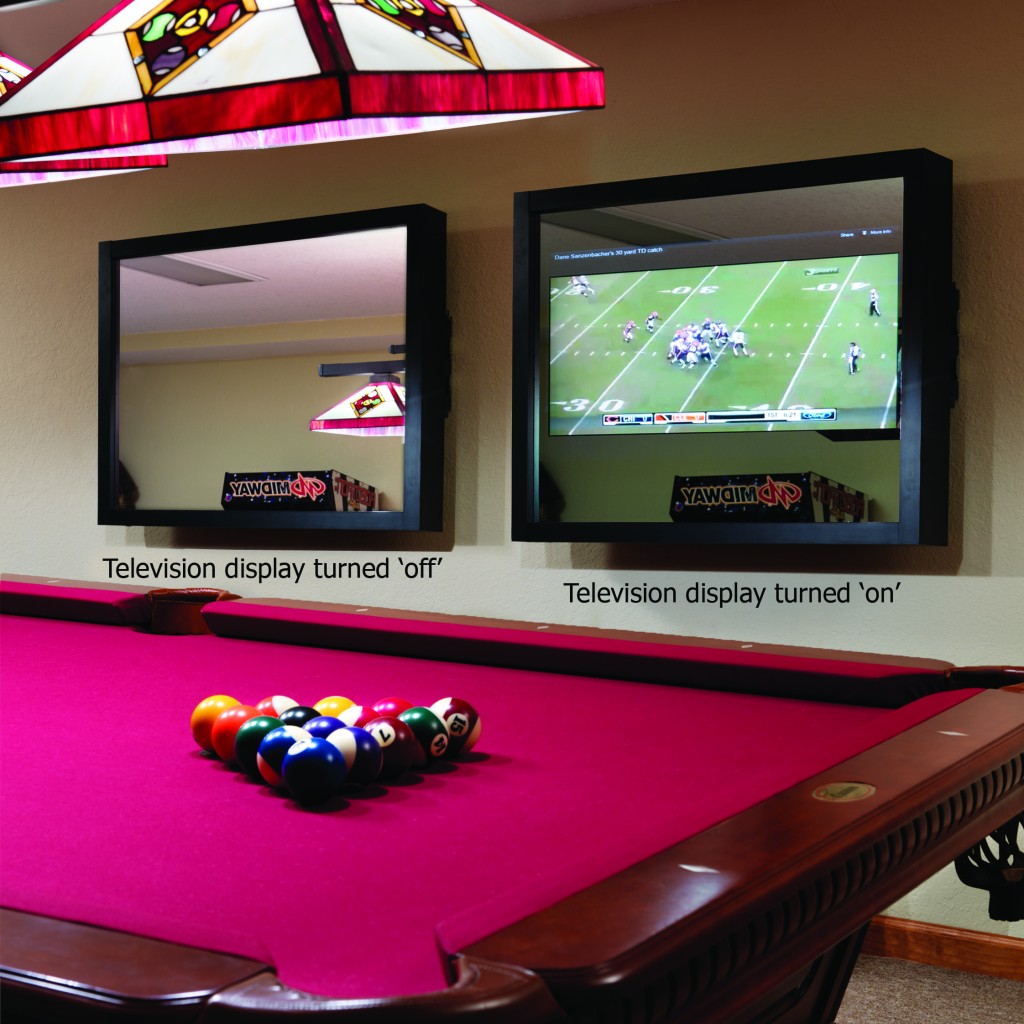 Bear Glass is proud to offer Pilkington Mirroview ™ to our customers. We have forged an alliance with Pilkington  and will be offering a variety their products. We feel that Pilkington Mirroview  is a  fantastic product for a variety of reasons.
Pilkington  MirroView™ is changing the way televisions and video screens are seen. It looks like a normal mirror when the screen is 'off.' When the screen is 'on, ' the image shows through the mirror for a clear view of the screen behind it.
Pilkington  MirroView™ is ideal for concealing televisions and video screens.  With its highly reflective mirror coating on a clear substrate, it gives your televisions and video screens a modern, transitional look.
Pilkington MirroView™ works best in rooms with controllable ambient light, and cleans like ordinary windows.
Design Considerations
Orientation
Type of Lighting
Background Colors
Distances and Light Levels
8:1 light ratio is recommended with subject
side brightly lit, and observer side dimly lit.

FEATURES AND BENEFITS
Ideal for hiding TV & video screens when not in use.
Coating quality will meet  ASTM C 1376
The reflective coating meets the performance specifications as  published.
Available in 1/4" (6mm) thickness
APPLICATIONS
Board rooms
Hotel rooms
Bars and restaurants
Lobbies and Salons
Family rooms
Recreation rooms
Home theatres
Bathrooms
Living rooms
Bedrooms
PYROLYTIC COATING ADVANTAGE
Durable and Temperable
Easily handled and transported
No edge deletion required
Virtually unlimited shelf-life
Inventoried at Bear Glass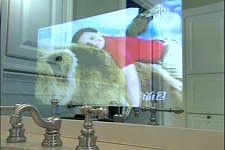 For more information on Bear Glass and our line of   Pilkington Mirroview ™ please contact Bear Glass at:
FACTORY/ OFFICE
Address:
Bear Glass Inc.
399 20th Street
Brooklyn, NY 11215
Phone: 718-832-3604
Fax: 718-832-0786
E-mail: bearglass@yahoo.com
If you are in New Jersey:
Bear Glass New Jersey
359 Essex Road
Tinton Falls New Jersey  07753
P: 732 901 262