Mirrored furniture is an excellent choice.  Mirrored furniture implies a sense of elegance that works equally well in traditional and contemporary settings.  From sleek, contemporary lines to classic designs with timeless appeal.  From signature chests and tables to pieces crafted from select hardwoods in an antique-cream finish with silvery accents.  From headboards to upholster chairs.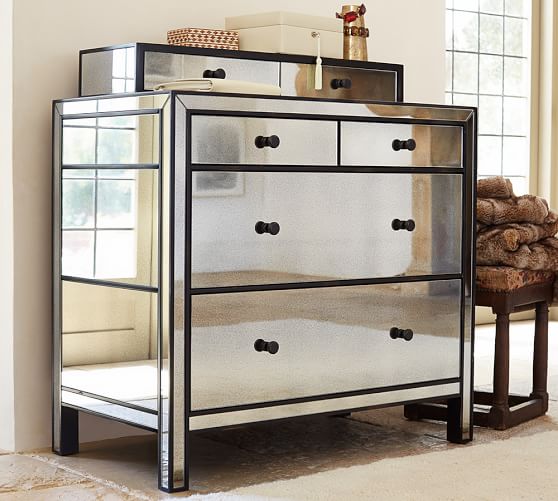 Don't forget about our signature accents for the perfect finishing touch!  Our mirrored furniture is as glamorous as any star from Hollywood's Golden Era, yet as practical as we can make it with the desks/draws having exceptional storage space.  Our mirrored furniture is all about functional fashion; most of our products are handcrafted, hand-painted and covered with hand-cut bevelled mirrors.  Allover shine marks our furniture as one you'll find a versatile fit with a variety of decorating styles.
Our mirrored furniture balances practicality and elegance while the reflective surface makes the room look more spacious.  Our products such as our side table add storage as well as shimmer to any living space.  However, it doesn't just end there.  Rather than buying already made mirrored furniture, you can bring your furniture in and we can attach the mirrors for you.  We offer a vast majority of services such as different fabrication, edgework on mirrors, beveling on mirror edges, v-grooving, and so much more.  You'll give it rave reviews.
Here at Bear Glass we offer the following services:
Beveling
This is the production, by abrasion, of a sloping edge on the glass sheet which is commonly used on mirror glass. The finished look can really enhance the overall appearance of any project that uses glass or mirror.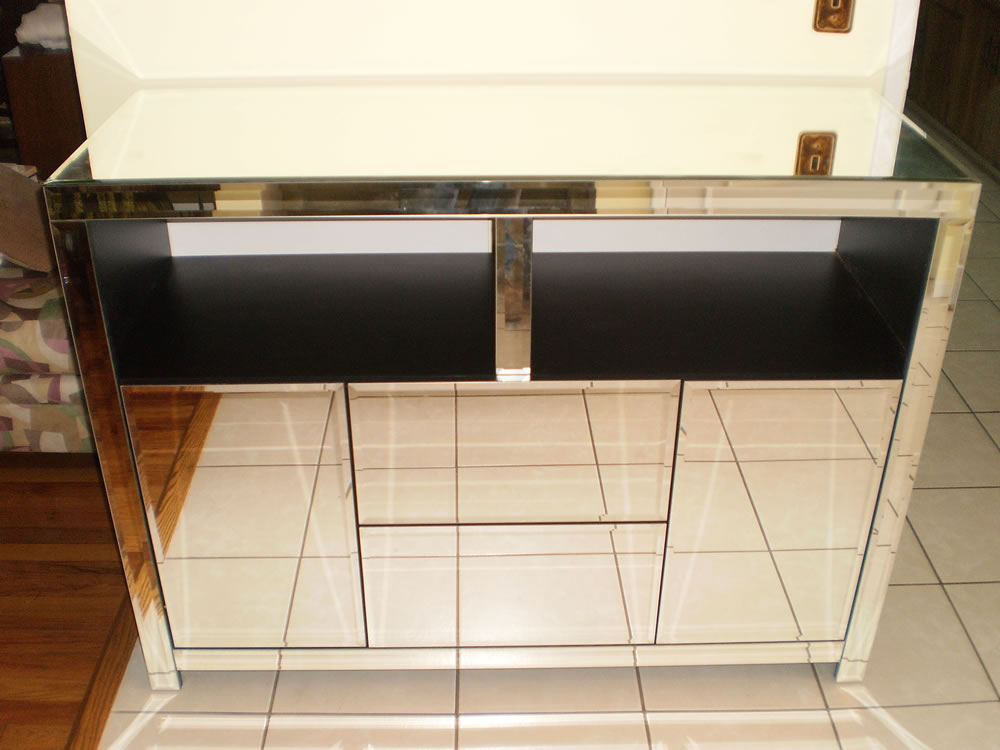 Edgeing
This is the shaping or finishing of the edges of a glass surface, usually by grinding with an abrasive wheel. Pencil Polished edge in a Satin finish (also available in clear finish) is the most common type of edgework on mirrors. Although this is not as common on mirrors as it is on glass.
Replacement glass
We can supply you with new mirror, or if the glass is vintage, match the existing glass
Fabrication
We offer the following types of fabrication to accommodate for the many applications of mirror:
Cutting by Hand
Notches
Finger Pulls
Etching
Bismatic
Drilling
Cutouts
beveling
miter
Polish
Custom antique
beading
installation
For more information on our priceless, Mirrored Furniture please Contact Bear Glass at:
FACTORY/ OFFICE
Address:
Bear Glass Inc.
399 20th Street
Brooklyn, NY 11215
Phone: 718-832-3604
Fax: 718-832-0786
E-mail: bearglass@yahoo.com
If you are in New Jersey:
Bear Glass New Jersey
359 Essex Road
Tinton Falls New Jersey 07753
P: 732 901 2626
F: 732 901 2266