Looking for a modern shower or tub door with incomparable look?   Bear Glass Frameless Shower Doors offers unique beautiful designs combined with flexible installation options and a superior value.  The standard frameless shower door and enclosure offers cost effective glass without sacrificing advanced design.   Bear Glass offers a simple yet elegant option for your shower project.  Shower curtains could contain mold, mildew, and unattractive fading color that you'd have to constantly change.  Try something more permanent such as a shower enclosure!  A custom shower enclosure from Bear Glass can create a completely new and upscale look to your bathroom.  You'll be amazed at the instant, whole-room transformation this simple change can create.  For the ultimate in shower enclosures, seek the experts of Bear Glass.  At Bear Glass we have years of experience in the glass industry and promise the highest quality of product results.  Frameless glass shower doors from Bear Glass come in an incredibly wide selection of styles and designs.  For a classic look, you might consider flat top.  Our Frameless Shower Doors and Enclosures all have the glass look with the polished edges gives our showers that unmistakable look of quality. Bear Glass will offer you a spectacular selection of glass to complement today's diverse bath decors.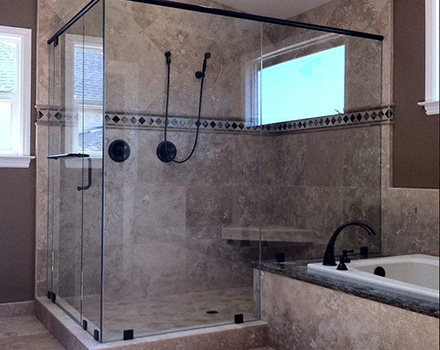 Custom designs to fit your exact opening dimensions are available.  If you are looking for the finest shower doors or glass enclosures with unprecedented value, choose Bear Glass to install your product.  Your imagination becomes reality with a custom designed shower door or glass shower enclosure created specifically by Bear Glass.  Whether you are building a new home, adding another bathroom or doing a bathroom remodel, let us include a modern frameless shower door or glass shower enclosure.  Your shower will be a stunning statement of what a properly designed, quality built frameless system can add to the beauty and value of your home.  Let Bear Glass provide a beautiful, low cost, frameless glass shower door for you.  With a wide variety of styles and glass patterns to choose from, we can help you find the perfect combination for your home.  At Bear Glass, we carry a full line of shower doors and tub doors!  Our glass tub door has a striking curved silhouette and sophisticated frameless design giving it the look of custom glass.  The tub door uses solid brass wall-to-glass hinges designed to open outward from the tub.  The glass door is fitted with an easy to reach towel bar that doubles as a handle. Hardware is available in chrome or brushed nickel finish.
Some of our features include but are not limited to:
Frameless glass design          
Single panel swing tub door
Solid brass wall-to-glass hinges
Easy to reach towel bar
Clear tempered glass
Reversible for left or right door opening
Hinged door and stationary side glass panel
Self-closing solid brass hinges
Wall mounted brackets and wall-attached bar for stationary glass
Glass door is reversible for "left-wall" or "right-wall" installation
All hardware available in chrome and brushed nickel finish
Tub Doors are compatible with installation on most bathtubs
A single frameless shower door beckons one into a sleek tile or rustic, stone room, illuminating the walled enclosure with light.  It's the simplest upgrade to increase value and a touch of luxury.  All of our Frameless Shower Doors are made to order, giving every client the opportunity to customize their bathroom shower. Begin by choosing one configuration you think would work best for your shower space.
For more information on or to order your new Frameless Shower Doors and Frameless Shower Enclosures please contact Bear Glas s:
FACTORY/ OFFICE
Address:
Bear Glass Inc.
399 20th Street
Brooklyn, NY 11215
Phone: 718-832-3604
Fax: 718-832-0786
E-mail: bearglass@yahoo.com
If you are in New Jersey:
Bear Glass New Jersey
359 Essex Road
Tinton Falls New Jersey  07753
P: 732 901 2626
F: 732 901 2266