Custom-Cut Mirrors and Vanity Mirrors
Bear Glass offers mirrors for your specific wants and needs. We know a new, custom mirror will enhance the beauty of your home or unit immediately. Bear Glass only uses the highest grades and the clearest mirrors made in the industry, and we guarantee the quality of every piece of mirror we sell. We will custom fit vanity tops and even cut holes for electrical outlets, switches, wall lights and sconces. Our skilled technicians at Bear Glass will ensure a professional installation every time.
Whether you need a dressing mirror, vanity mirror, or an entire wall of mirrors, the mirror specialists at Bear Glass can help you with any size project.
Mirrors can be used to make a room more elegant or appear much larger.
Our "attention to detail" is one reason why Homeowners, Architects, and Designers have come to rely on Bear Glass. We pride ourselves in taking time to consult and design a unique mirror application for each and every client. Creative designs allow mirrors to be installed in any location throughout your home.
Bear Glass works with Business and Building Owners, Architects, Designers, Contractors, and Property Management Companies. Whether you need to replace a restroom mirror or need a complete wall of mirrors, the mirror specialists at Bear Glass have the knowledge and experience to complete any size project. Bear  Glass has a large inventory of mirror and the ability to fabricate mirrors to most any size. Bear Glass uses only the highest quality products to ensure your complete satisfaction.
Department Stores
Restaurants and Night Clubs
Salons and Spas
Fitness Centers
Aerobic and Yoga Studios
Dance Studios
Hospitality
Restrooms
Dressing Rooms
Elevators
Custom-Cut Tabletops and Vanity Tops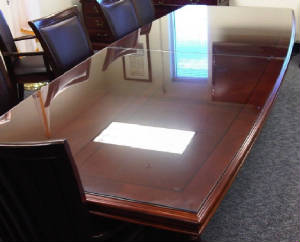 Bear Glass can provide you with glass for any surface. Protect your valuable dining table or desk with a custom-cut glass top. We can even help you turn your favorite stand into a nice table with a custom-sized piece of glass. Bear Glass will fabricate glass to fit your specific size and need, ensuring a perfect fit. We offer different types of glass and different thicknesses, as well as edge work to match your style and décor. Bear Glass can also replace your patio-table glass with custom-sized safety glass.
Glass Tabletops are a great way to protect those fine wood surfaces, while allowing the beauty of the wood to be seen. Glass tabletops are often associated with a classy formal dining room table, but glass tabletops have many applications.
Whether you need a glass tabletop, glass countertop, or glass shelves for your home, the professionals at Bear Glass New Jersey can help from design to delivery. We will show you the different shapes and sizes, thicknesses, and glass types that are available. Nothing adds beauty like a sparkling glass tabletop.
Residential Glass Tabletops
Glass Countertops
Home Office Desks
Bedroom Night Stands
Kitchen Tables
Coffee Tables
Dining Room Tables
Patio Tables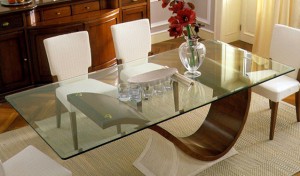 Bear Glass offers glass tabletops with various edge treatments, including Flat Polish, Pencil Polish, Beveled edge, Ogee Edge, and Wave Edge. Each edge can perfectly accent the décor of your home and the professionals at Bear Glass can show you the different edge treatments available.
Residential Glass Tabletops
1/4″ to 1″ Thick glass
Variety of Colors
Variety of Edge Treatments
Custom Shapes and Sizes
Custom Fabrication
Expert Installation
For more information on Bear Glass and Custom-Cut Mirrors, Vanity Mirrors, Custom-Cut Tabletops and Vanity Tops please contact Bear Glass at:
FACTORY/ OFFICE
Address:
Bear Glass Inc.
399 20th Street
Brooklyn, NY 11215
Phone: 718-832-3604
Fax: 718-832-0786
E-mail: bearglass@yahoo.com
If you are in New Jersey:
Bear Glass New Jersey
359 Essex Road
Tinton Falls New Jersey  07753
P: 732 901 2626
F: 732 901 2266