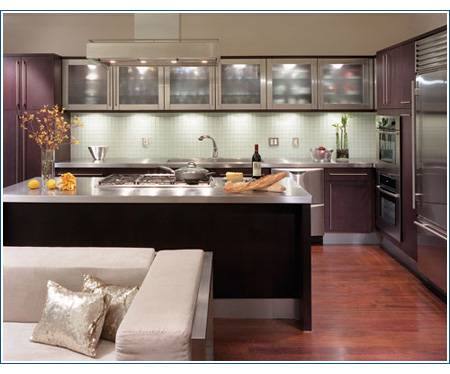 Bear Glass offers clear and obscuring cabinet glass in several textures.  In addition to clear textured glass and obscuring cabinet glass, we offer hundreds of translucent and lightly colored glasses that will add a new dimension of beauty to your kitchen or bathroom cabinets, as well as other areas throughout your home or office.  We can custom cut your cabinet glass according to your measurements and ship to your location.  Don't limit yourself to clear glass and clear textured glass.  Think outside the box and design your kitchen or bath with cabinet glass that will stand out from the ordinary.  If you are interested in glass shelves for your cabinets, furniture, or for decorative purposes we can help you.
We provide a variety of glass types such as:
Glass cabinet represents an ideal compromise between solid cabinetry and open shelving.  They keep out dust and debris yet help to open a kitchen up visually and showcase striking dishware and decorative items.  Upgrade your cabinets with custom decorative glass inserts to refresh interiors, invigorate your decor and enhance your home or office. Select tempered or laminated glass for safety and security.  All glass is shipped cut-to-size and ready to install.  Convert your raised or flat panel cabinets into works of art!  The glass in your cabinets can also enhance the elegance and beauty of your kitchen.  We carry many types of pattern glass to help express your unique personal style.  We can install glass in your new or existing cabinet doors to meet your needs.  Use cabinet glass to balance out other elements.  In your elegant and traditional kitchen, the glass cabinetry in your kitchen will help balance out the weight of everything else by "stretching" the weight out.  In a sense, it lessens the overall impact and makes all parts feel cohesive and unified.  Give us a call or come visit us in New Jersey to see our experts for a consultation on helping you match a pattern and style that compliments your kitchen decor.  Decorative glass for your cabinets adds that extra flare that you will enjoy and it will definitely attract the attention of your guests.  Cabinet glass is the essence of class and fanciness. Get Fancy with Bear Glass Today!!!
For more information on Cabinet Glass please contact Bear Glass at:
FACTORY/ OFFICE
Address:
Bear Glass Inc.
399 20th Street
Brooklyn, NY 11215
Phone: 718-832-3604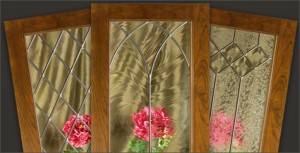 Fax: 718-832-0786
E-mail: bearglass@yahoo.com
If you are in New Jersey:
Bear Glass New Jersey
359 Essex Road
Tinton Falls New Jersey  07753
P: 732 901 2626
F: 732 901 2266